"And Still, We Rise"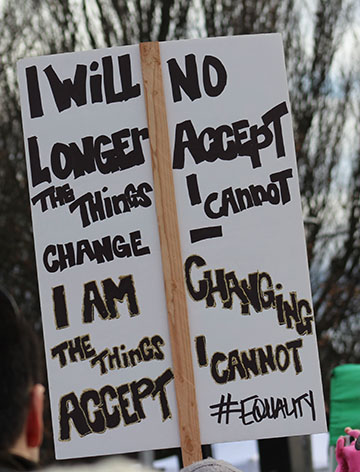 On January 21, 2017, over 175,000 people marched in a peaceful protest in Seattle, protesting President Trump and Vice President Mike Pence, and marching for women's rights. Starting at Judkins Park, the event began with Maya Angelou's poem "Still I Rise," which soon became the mantra for the day. Three motivational speakers spoke afterwards about their struggles overcoming injustice in our "modern-day" society, before the masses took to the streets. As they spoke, thousands of women, men and children stood together, listening intently and supporting exactly how they felt.
To say being a part of something so groundbreaking was "fun" would be an understatement. It was an amazing experience that was full of memories to last a lifetime. To know that other marches were happening around the world was incredible, and I would never trade my experience for anything; especially because I got to share it with my mom, dad and cousin, three people in my life that have pushed me to believe I could do anything I wanted to do.
It was also so inspiring to be there, surrounded by all different kinds of people. Members of the LGBTQ+ community, Muslims, African-Americans, Native Americans, and people of any gender or religion all peacefully marched with one another. I've never seen so many people from different cultures come together for one cause, and it was incredible to watch.  It was the proudest I'd ever been to be an American. You would think that slowly shuffling along for an hour just to get out of the park would make people angry, but they were calm, keeping it peaceful and placid. From Seattle to New York to Washington D.C. to Germany to Kenya, 4.6 million people marched for what is right, what is true, and what is just.