Wednesday: Woah or Woe?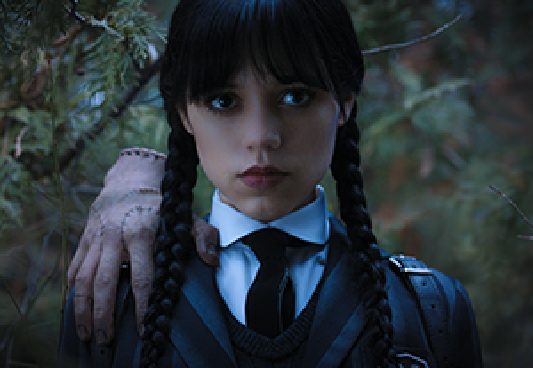 The Addams Family is a classic movie featuring a family with mysteriously devious plans. Netflix has recently released a show following up on the story of a daughter in the family, named Wednesday. Wednesday has brought on controversial opinions since some people think it isn't true enough to the movies, and some love It as itself. "So, in the first 3 episodes I was really into it since it's super mysterious and you try to find out who's like the bad guy or actually the villain in the show but by the end, I was just totally wrong, and everything was just twisted and that's why I liked it so much. I thought the character development I really liked I mean they could've had some more work done but all the way it's done throughout the show I liked so much," Sophomore Uri Ramirez said. 
On episode four of the series entitled, "Woe What a Night," the school she attends called "Nevermore Academy" holds a dance that pulled a lot of attention from both townspeople and academy students alike. The episode had an edgy ending that fans seemed to love. "I didn't actually think the dance was gonna be such a big thing but then when I saw it on TikTok on Instagram and I saw people doing it everywhere and I mean the song is an absolute bop," Ramirez said.  
The original movies came out in 1991 and 1993 and have since been remade into several different styles. This is the first series specifically showcasing Wednesday but has left out some stories of the rest of the family. Wednesday has exposed a younger generation to the Addams family who weren't alive when the original movies hit theaters. "I loved the whole Addams family series for years and years and Gomez (one of the characters in the Addams family) just didn't feel right, and they can change it but if it was based on the old stories but, I just feel like Gomez wouldn't look like that or the way he talks too was different. The rest of the characters were pretty cute. I liked the plot, but I got lost at some points. I thought the dance was really funny and it was definitely a different aspect of her then before," Olivia Mineer said.  
The show has acquired much praise overall, but that isn't a universal opinion, especially among students at Glacier Peak. Since the movies have already shown one view of the family, some people don't want to adjust to this new one brought on. Landon Thompson from the class of 2025 said, "I just thought it was really weird and I thought the acting was poorly executed. The story was just not the type of thing that I'm interested in," he said. "I had to stop halfway through because I just couldn't deal with how weird it was. My favorite character was Tyler, he was fine, but he was also the only one I remotely liked. I actually liked the originals and the animated ones they put out too but just this wasn't right and in addition, I don't like Jenna Ortega," Thompson said.  
Recently it was announced that the series would be renewed for another season which many students are excited about. "I am very excited for season two. I really liked to see the characters Thing and Uncle Fiester and hope to see them again. They were funny," Brittany Tandy said when asked about her feelings on the show being renewed.