Moving Up And Moving Forward
JV Soccer Player Annika Lambott Gets Moved Up To Varsity And Scores Two Points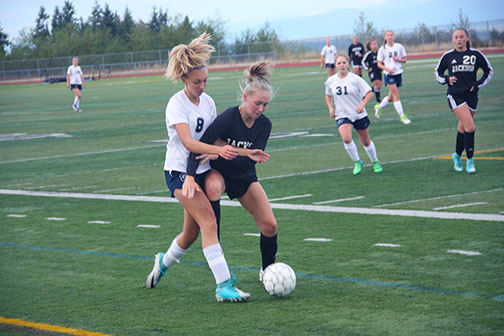 Hang on for a minute...we're trying to find some more stories you might like.
After finishing the soccer season, Annika Lambott was one of the two JV players moved up to play on the varsity team for their district games.
"I think I got moved up because I worked really hard this season and I was good enough to be playing with them," Lambott said.
After being moved up Lambott scored two of the four goals in the game on October 31, helping our team to take the win in their first districts game.
"Scoring two goals felt really good, the girls were so nice about it and encouraged me to keep trying it was really awesome," Lambott said.
She not only plays soccer for Glacier Peak but also for a Snohomish Club team and has been for four or five years now as well as rec teams since she was two years old.
"When I play club, I play defensive mid or attacking mid but on Glacier Peak's team, I play forward," she said.
Lambott very much emphasized how kind the girls on the team were. They were so happy to have her be a part of the team.
"The girls were so nice and welcoming! The team was so close and talkative which was different for me because on club the girls aren't as close but on this team, it's like a family."