Tenth Year Looking Bright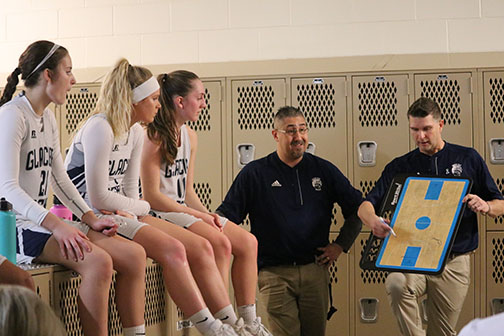 Hang on for a minute...we're trying to find some more stories you might like.
The Girls Varsity Basketball since we've opened, have 168 wins and 67 losses. This season the girls have started off a bit slow, they're 6-5 and still have more games to come.
The five loses have been the top teams in the state which are Stanwood, Lake Stevens, Snohomish, Moses Lake and Sunnyside.
"We competed hard and had a chance to win, so we are on the right track to hopefully do well," Brian Hill said. He is the coach for the team.
The loses were games that Hill scheduled on purpose, knowing that his team might lose them.
"In order for us to get where we want to be at the end of the season we need to know what it looks like to be a top team in the state, so we can figure out a way to be competing at that level. And I think we will get there," Hill said.
Coach Hill has been coaching basketball for 20 years at different schools and grades. Since Glacier Peak opened he's been the head coach for all 10 years. Hill says that its hard and easy to coach girls' basketball because when Glacier Peak first opened they were picked to finish last and ended up in third.
"There was no pressure, so it was easy to just go play hard and see where we ended up," Hill said.
Hill thinks girls tend to want to learn new things and will work hard for themselves and others.
"Girls are more competitive then some people think and if you can dig in and get that out of them, you will have a successful team," Hill said.
Coach Hill thinks he can always make it back to state at least that's his goal.
"I don't think people understand how difficult it is to get to state. We have been pretty fortunate through the years hopefully we can continue to make it," Hill said.