Basketball Season Coming To A Close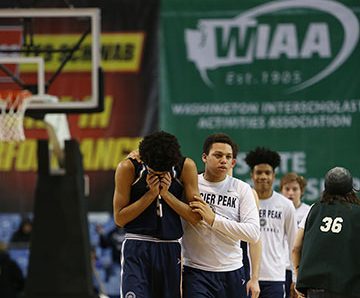 Hang on for a minute...we're trying to find some more stories you might like.
Last Wednesday, our boys basketball team played their final game of the season against Skyview at the Tacoma Dome. The game was a nail biter, coming down to the final seconds of the game. Our boys basketball team was down 68-67 with only 5.1 seconds left in the fourth quarter. The ball was in-bounded and given to senior Trey Lawrence for a last second shot from half court. The shot was short and that was the end of the game.
"Once the final horn buzzed, it really sunk in that everything we had worked for that season was crushed," Lawrence said.
This season was one to remember, not only was this the second year in a row that the boys have made it to the Tacoma Dome for the state tournament, they also finished with a final record of 21 wins and 4 losses, an 84 percent winning percentage. All that winning lead to a 2nd place finish in our district as well.  If that isn't good enough, our boys also managed to beat our cross-town-rivals, the Jackson Timberwolves, all of the four times we played them.
Considering how great of a season they had, it wouldn't be possible without the leadership of our amazing seniors. Our team was lead by starters Trey Lawrence, Jacob Martin and other seniors Bo Burns and Anthony Collins.
"Me and my teammates are my brothers. The whole season we were focused and we knew what we had to do to get it done. I think that this team is one of the schools best basketball teams with the way we worked and the passion we played with," Martin said.